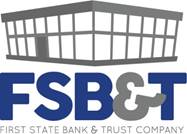 June 23, 2016
Dear Valued Cash Management Customer:
We are excited to announce that on July 11, 2016, we will launch a new and improved Online and Mobile Banking system with new features and enhanced functionality. When First State Bank & Trust Company flips the switch on our new Online Banking system on July 11th, 2016, business customers are going to discover a rich, new online cash management system that will make it easier for you to manage your business accounts online!
The new site will offer all of the same functionality you have been accustomed to while introducing great new features to enhance your digital experience. The new Cash Management system will enable business users to originate a wide range of ACH payments and collection types, including vendor payments, direct deposit of payroll, initiate wire transfers, cash concentration prenotifications and federal tax payments.
Your success in navigating our new Cash Management features is very important to us. Upon your request, we are happy to provide hands-on, interactive training to assist you in this transition. Please contact the Bank at customerservice@fsbcarthage.com or by phone at 903-291-2424 to request training.
In the next two weeks, you may receive an email from customerservice@fsbcarthage.com with a link to more information about the new system, including how to login for the first time. You may also find links to these instructions and other communications posted to our website at www.fsbcarthage.com , Facebook and Twitter.
Again, First State Bank & Trust Company is proud to offer a new and exciting change in our online banking service. The new service will be available on July 11, 2016 . Thank you for your business and support in this change. Should you have any questions or concerns, please feel free to contact us at 903-693-6606 or customerservice@fsbcarthage.com .
Sincerely,
Jim Payne, CEO and Chairman of the Board
The following information contains important date and access information about our new Online & Mobile Banking systems – please read it carefully and thoroughly.
Important Dates
Temporary Online Banking & Online Bill Payment Service Limitations
(While We Switch Systems)
| | | |
| --- | --- | --- |
| System | Unavailable to Access | Available to Access |
| Online Banking | Thursday, July 7, 2016 at 3:00 p.m. CST | Monday, July 11, 2016 at 9:00 a.m. CST |
| Online Bill Payment | Friday, July 1, 2016 | Monday, July 11, 2016 at 9:00 a.m. CST |
Online Bill Payment
Current Online Bill Payment members: In order to ensure that all your bills continue to be paid as normal during the upgrade, you will not have access to make any changes to your bill payment account from July 1 - 11, 2016. Scheduled bill payments will continue to be made through July 8, 2016. Bill Payment functionality will be restored in full through iPay when the upgrade is complete on July 11, 2016.
Ensuring Uninterrupted Access
To ensure there are no interruptions in your account access please log in to Online Banking prior to July 7, 2016 and confirm the accuracy of the following information:
Email Address
Telephone Number
Mailing Address
Important: Please note that payees in our current Online Banking system for payroll, collections, and ACH receipts are not going to automatically convert to the new system. We ask that you prepare for this by saving a list of your payee information in a spreadsheet to ensure that your files can be updated when the new Online Banking System goes live on July 11th.